3D Cone Beam Imaging
The Planmeca ProMax scanner generates a 3D image after only 14 seconds, providing an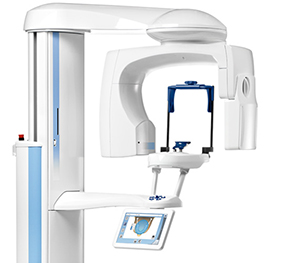 exceptionally high image resolution in a short period of time. This means less waiting time for a diagnosis and quickly generated treatment plans. Utilizing the ProMax scanner, we are able to quickly assess your dental needs and have you back out enjoying your life in less time than you might expect from traditional imaging equipment, emitting the lowest level of radiation while providing a superior image.
OralID - Oral Cancer Screening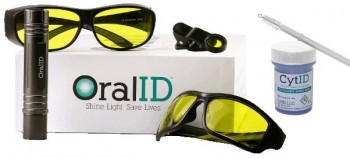 OralID's fluorescence technology uses a blue light that allows Dr. Aydin to identify oral cancer, pre-cancer and other abnormal lesions at an earlier stage. The simple screening is a simple pains procedure that utilizes fluorescence (light) technology to distinguish between healthy oral cells and abnormal or cancerous cells early before the tumor is visible to the naked eye. Oral cancers treated early have an 85% cure rate, while the advanced cancers only a 50% cure rate.
The most common symptoms of oral cancer include:
Red or white spots or sores anywhere in the oral cavity
A sore that bleeds easily or does not heal
A lump, thickening, or rough spot
Pain, tenderness, or numbness anywhere in the mouth or on the lips
Difficulty chewing, swallowing, speaking, or moving the jaw or tongue
Here are some statistics to consider:
Oral cancer kills one American every hour.
Approximately 42,000 people in the United States will be newly diagnosed with oral cancer in 2013.
In 2013, among the 42,000 diagnosed with oral cancer in the United States, 18,000 will not be alive in five years.
Oral cancer's incidence rate has increased the last five years in a row.
In 2007, oral cancer's incidence increased by 11 percent.
The mortality rate for oral cancer has not changed significantly in three decades.
Oral cancer's high mortality rate is due to late-stage discovery (Stage III and IV).
The mortality rate for oral cancer is higher than the rates for cervical cancer, Hodgkin's lymphoma, laryngeal cancer, testicular cancer, thyroid cancer and skin cancer.
Schedule your appointment today with Dr. Aydin.
Crowns in a Single Visit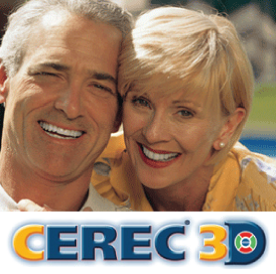 Welcome to dentistry in the 21st century! We are pleased to offer crowns made with CEREC 3D™, a highly precise computer milling machine that makes crowns right in the office, in one visit.
No more temporaries, additional visits, or crowns that don't seem to fit right. CEREC 3D crowns are convenient, aesthetically desirable, and you do not have to give up function. Due to the custom design and precise fit, CEREC 3D restorations are bonded to the tooth with the optimum strength available.
Enjoy the Benefits of New Dental Technology
We are pleased to be one of the first in our community to offer crowns with the CEREC 3D machine. If you have ever had a crown placed the traditional way, we are sure you will notice the difference!
75% Reduction in Radiation
Introducing digital radiography, now available at our practice. With this new technology, a digital image is taken of your mouth and downloaded into our computer system, where it is immediately available.
More Convience, Less Radiation
This method results in 75% less radiation than conventional X-rays. No more waiting for images to develop. And no more chemical waste to pollute the environment.
Painless Treatment!
The patient feels no pain or discomfort whatsoever because there are no shots and there's no drilling. Nothing is done to the tooth other than the application of the ozone and the fluid that allows the tooth to re-mineralize.
Fixing Cavities Without Drilling
Studies conducted at Belfast University found that 10 seconds of Ozone killed 99% of bacteria, viruses and fungi that were present in the tooth (including the bacteria inside a tooth that creates a cavity). In one study, 99% of cavities were halted. Of the control group in the same study, where teeth were left untreated, 80% of cavities became worse.
Find out if Ozone treatment is for you!